Welcome to Marianne's Clay Creations. My Ceramic creations are inspired by the beauty of nature. I love the feel of clay and enjoy the process starting with a ball of clay and seeing it transform to the finished glazed piece. My primary focus is functional pottery for everyday use. My pottery is created pottery not for the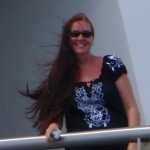 shelf but as part of daily life.  Most pieces are fired at Cone 10 and are microwave friendly, dishwasher safe as well as lead free and non-toxic.
Please feel free to browse.  Custom orders are welcome!  Leave me a comment, I'd love to hear from you!